Table dishwasher
55 cm
White
POWERJET7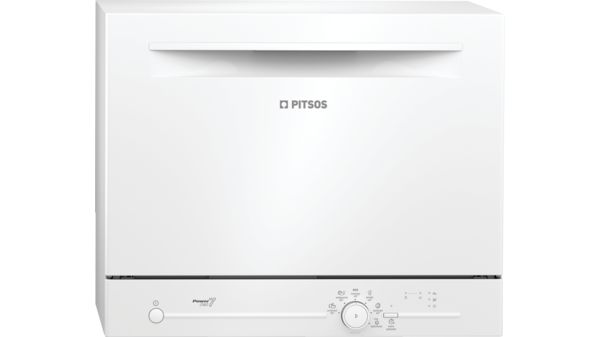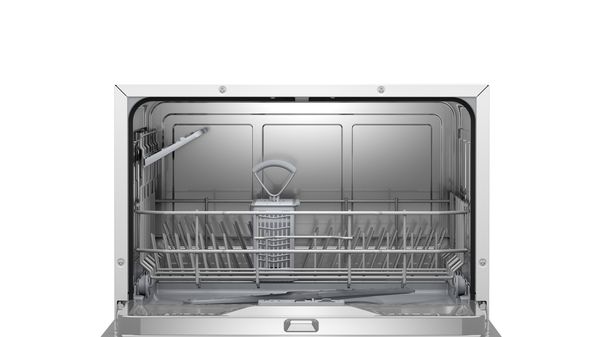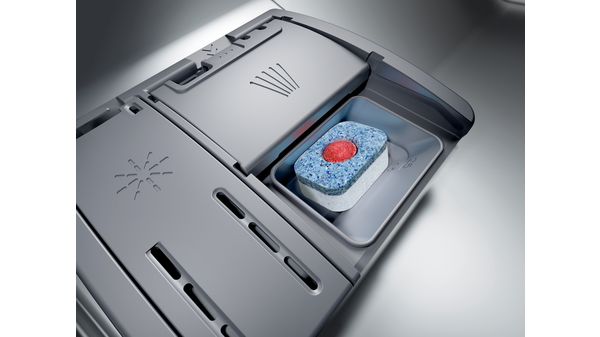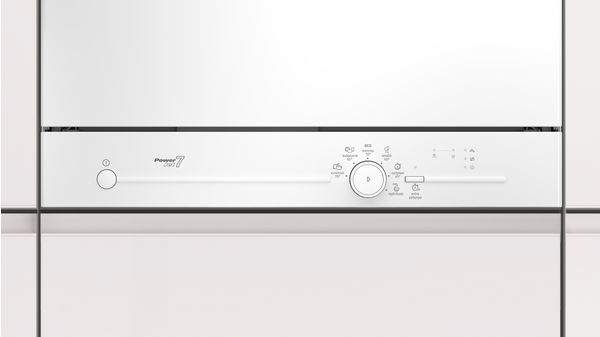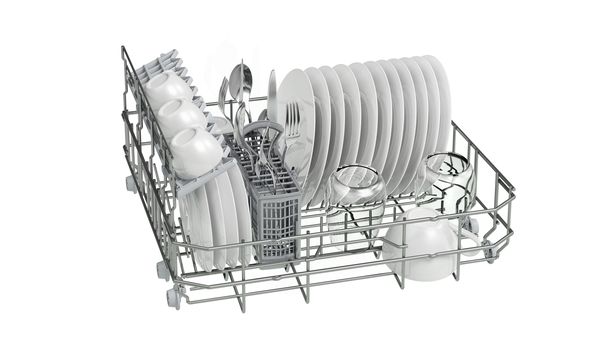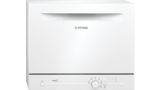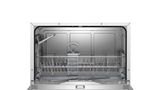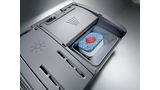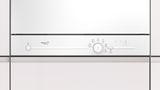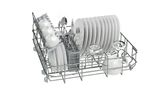 Technical information and features
Product dimensions (H x W x D) (mm): 450 x 551 x 500
The ideal solution for small spaces. It fits snugly on your kitchen counter and relieves you of washing dishes by hand.
10 year warranty against rust inside the appliance bucket.
Program Fast 45 ° C, for washing your dishes in just 29 minutes. Next to you, especially when you are in a hurry.
Program Gentle 40 ° C: Mild washing program for your precious glassware.
Dosage Assist: Complete dissolution of the detergent tablets with absolute control, for perfect hygiene in every wash.
With the load sensor you do not waste a single drop of water when washing your dishes.



Technical specifications
Consumption & performance
Programs & special functions
6 programs: Intensive 70 ° C, Mixed 65 ° C, Economical 50 ° C, Glasses 40 ° C, Fast 45 ° C, Prewash
1 special function: extra fast - reduction of washing time
Flexible basket with moving case for cutlery and shelf for cups
Eco Motor - BLDC technology engine, quieter, more economical and more durable than conventional
Load sensor
Auto 3in1 - detergent type identification
Glass Protect - glass protection system
Flow heater, with built-in pump
Self-cleaning three-level filter
Indications & device operation
LED indicators for the program phase
Program selector with integrated START key
Light indicator of salt supplement, brightener
Multiple leakage protection
| | |
| --- | --- |
| Device width (mm) | 551 |
| Product height (mm) | 450 |
| Installation type | Desktop device |
| Tableware | 6 |
| Water consumption | 8.0 |
| Energy class | A + |
| List of programs | Glass, Fast, Intensive, Normal, Economical, Prewash |
| Additional mode options | VarioSpeed |
| Remaining time display |   |
| Noise level (dB (A) re 1 pW) | 54 |
| 3º basket | None |
| Internal cylinder light |   |
| Removable upper part |   |
| Power supply cable length (cm) | 175 |
| Water outlet pipe length (cm) | 215 |
| Power out of order (W) - NEW (2010/30 / EC) | 0.10 |
| Standby power (W) - NEW (2010/30 / EC) | 0.10 |
| Standby time (min) (2010/30 / EC) | 0 |
| | |
| --- | --- |
| Side Color / Material | White |
| Color / Material metope handling | White |
| Built-in / Free | Free device |
| Possibility of door lining | Not available |
| Drying system | Residual heat |
| Product height (mm) | 450 |
| Hidden heating element |   |
| Installation type | Desktop device |
| Removable upper part |   |
| Bucket material | Plastic |
| Water softening system |   |
| Device width (mm) | 551 |
| | |
| --- | --- |
| Product dimensions (H x W x D) (mm) | 450 x 551 x 500 |
| Sub-wall height (mm) | 0 |
| Adjustable base (apron) | No |
| Net weight (kg) | 21,842 |
| | |
| --- | --- |
| Drying progress indicator light | water introduction |
| List of programs | Glass, Fast, Intensive, Normal, Economical, Prewash |
| Program 1 | Intensive |
| Program 2 | Normal |
| Program 3 | Economical |
| Program 4 | Glass |
| Program 5 | Fast schedule |
| Program 6 | Prewash |
| Program Duration 1 (min) | 120 |
| Duration Program 2 (min) | 160 |
| Program Duration 3 (min) | 235 |
| Program Duration 4 (min) | 80 |
| Program Duration 5 (min) | 29 |
| Program Duration 6 (min) | 15 |
| Reference program | Eco |
| Number of different wash temperatures | 5 |
| Temperature Program 1 (° C) | 70 |
| Temperature Program 2 (° C) | 65 |
| Temperature Program 3 (° C) | 50 |
| Temperature Program 4 (° C) | 40 |
| Temperature Program 5 (° C) | 45 |
| | |
| --- | --- |
| Glassware protection system |   |
| Surge-back protect. installed |   |
| Leakage protection system | Overall system |
| | |
| --- | --- |
| Glassware protection system |   |
| Energy consumption (kWh) | 0.61 |
| Washing performance | A |
| Drying Performance | B |
| Energy Consumption Program 1 (kWh) | 0.9 |
| Energy Consumption Program 2 (kWh) | 0.85 |
| Energy Consumption Program 3 (kWh) | 0.61 |
| Energy Consumption Program 4 (kWh) | 0.45 |
| Energy Consumption Program 5 (kWh) | 0.45 |
| Energy Consumption Program 6 (kWh) | 0.05 |
| Water Consumption Program 1 (lt) | 10 |
| Water Consumption Program 2 (lt) | 9 |
| Water Consumption Program 3 (lt) | 8 |
| Water Consumption Program 4 (lt) | 7.5 |
| Water Consumption Program 5 (lt) | 6 |
| Water Consumption Program 6 (lt) | 3 |
| Water consumption | 8.0 |
| Maximum water inlet temperature (° C) | 25 |
Connection specifications
| | |
| --- | --- |
| Power (W) | 2,400 |
| Power supply cable length (cm) | 175 |
| Electric current (A) | 10 |
| Water inlet pipe length (cm) | 150 |
| Water outlet pipe length (cm) | 215 |
| Plug type | Gardy socket with ground |
| | |
| --- | --- |
| Glassware protection system |   |
| Energy consumption (kWh) | 0.61 |
| Washing performance | A |
| Drying Performance | B |
| Energy Consumption Program 1 (kWh) | 0.9 |
| Energy Consumption Program 2 (kWh) | 0.85 |
| Energy Consumption Program 3 (kWh) | 0.61 |
| Energy Consumption Program 4 (kWh) | 0.45 |
| Energy Consumption Program 5 (kWh) | 0.45 |
| Energy Consumption Program 6 (kWh) | 0.05 |
| Maximum water inlet temperature (° C) | 25 |